Visions from a Razor's Edge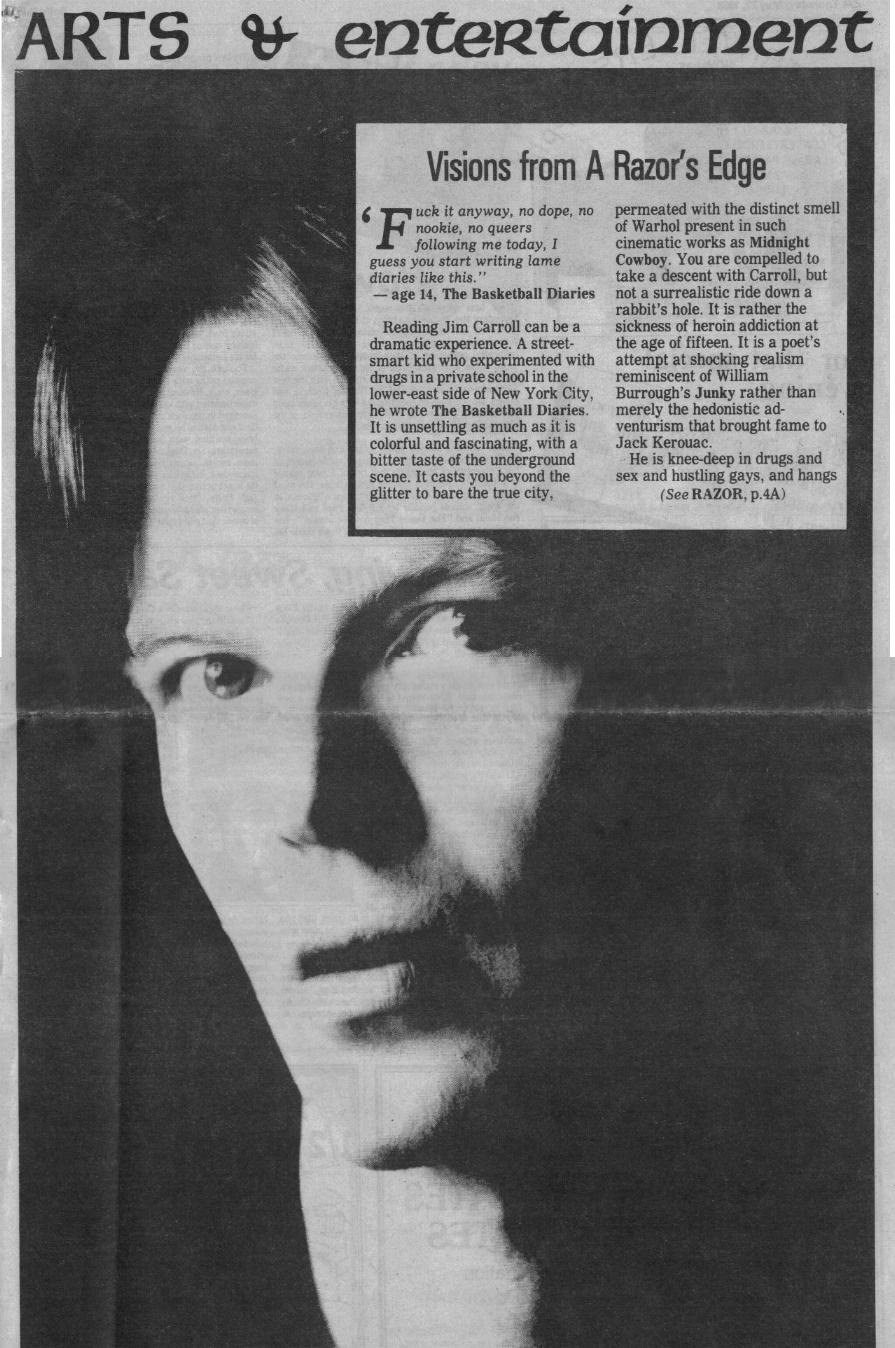 "Fuck it anyway, no dope, no nookie, no queers following me today, I guess you start writing lame diaries like this."
— Age 14, The Basketball Diaries
Reading Jim Carroll can be a dramatic experience. A street-smart kid who experimented with drugs in a private school in the lower-east side of New York City, he wrote The Basketball Diaries. It is unsettling as much as it is colorful and fascinating, with a bitter taste of the underground scene. It casts you beyond the glitter to bare the true city, permeated with the distinct smell of Warhol present in such cinematic works as "Midnight Cowboy". You are compelled to take a descent with Carroll, but not a surrealistic ride down a rabbit's hole. It is rather the sickness of heroin addiction at the age of fifteen. It is a poet's attempt at shocking realism reminiscent of William Burrough's Junky rather than merely the hedonistic adventurism that brought fame to Jack Kerouac.
He is knee-deep in drugs and sex and hustling gays, and hangs onto a tough-athlete image, but manages to nevertheless absorb knowledge. There is a subtle stylism present in Diaries, whose growth you can follow to the very last page as Carroll develops. Kerouac once wrote, "At 13 years of age, Jim Carroll writes better prose than 89 percent of the novelists working today."
With a sharply endowed mind he turned to writing poetry. Like Allen Ginsberg, he sees drugs as a means to a literary end. The lyric seductiveness contained in his first major publication, Living at the Movies, reportedly caused Carroll (at a mere 22 years) to be the youngest ever nominee for the Pulitzer Prize:
I sleep on a tar roof
scream my songs
into lazy floods of stars...
a white powder paddles through blood and heart
and
the sounds return
pure and easy...
this city is on my side.

— Fragment: Little N.Y. Ode
Breaking his heroin addiction cold for one last time by moving to California in 1974, he took up the idea of using rock music as a medium to expand. "Any poet," he says, "out of respect for his audience should become a rock and roll star." To this end, he follows in the footsteps of ex-girlfriend Patti Smith and the influential Lou Reed, a good friend. His first album, Catholic Boy (1980), won him quick attention, not only as a singer, but also as an artist as a whole. (Living at the Movies was re-released and sold in one week what it had sold in the first two years of its original release.) One song, "People who Died", with its rush of guitars and the same rough-edged content of his diaries, soon became a cult classic, especially among the college crowd:
Teddy sniffing glue, he was twelve years old
Fell from the roof on East Two-Nine.
Cathy was 11 when she pulled the plug
On twenty-six reds and a bottle of wine.
Bobby got leukemia, 14 years old.
He looked like 65 when he died.
He was a friend of mine.
Now, two albums later, he's making another due out next year, one that promises to be as thrilling as the first. He is working with such legends as Ray Manzarek of the Doors, Billy Zoom of X and, of course, Lou Reed. At the same time, the next installment of his diaries, dealing with the Andy Warhol years, is being completed while a film version of Basketball Diaries is being made. 18-year-old Anthony Michael Hall is playing Carroll (it was originally to be Matt Dillon, but his manager didn't want him to do the drug scenes).
In the meantime, we can delve into the visionary experience of a new collection of poems and drug-induced prose poems (called "nods") entitled The Book of Nods. Most were written after the fact, but still contain brilliantly fantastic and surrealistic images and startling concepts, with topics ranging from romance and sex to meetings with historical figures and a trip to Paraguay. Those who still have a romantic obsession with his underground and drug life will be pleased with this book, yet it is as beautiful as his first anthology, a high art that seems eons beyond the first attempts at writing in Diaries: "Across the cathedrals of Paris the sun is bending, weary like the eyes of their marble saints, who blow cracked trumpets to the water birds at dawn."
So much poverty. It follows me through subway cars.
Poverty to die a death within one's own family.
Poverty of the darkness across the ice. Poverty of cataract eyes.
Poverty of young men alone behind the stairway, who practice
Alchemy inside bottle caps, who know
The altruism of a last syringe.
Once just the young listener amid elder contemporaries, Carroll has uncompromisingly proven his talent in a book of passion, vibrating with captivating themes and bold images, swirling with the charisma of Kafka and Rimbaud. More is yet to come.
---
See Irving's accompanying interview, Nods of Days Gone By