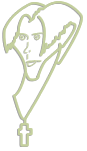 Jim Ha Cambiato Strada
("Jim Has Changed Road")
Italian translation of Forced Entries
Back cover copy:
"Una cosa è sicura: ho raso al suolo questa città nella mia carne, nel cuore e nello spirito. Sono stufo marcio della velocità di New York, dell'accelerazione costante e delle sue forzate perversioni e oscillazioni. Non ne posso più del bisogno di tirar tutto dentro...ogni festa, ogni apertura...sempre a strappare quasi in senso letterale il mio corpo in direzioni diverse. [...] Non posso reggere uno stile costante nella mia scrittura su queste piattaforme mutevoli di artificio e rapido cambiamento.
"Cerco di innescare la mia vita e il mio lavoro, di star dietro allo sfiancante schivare di macchine e droghe. Ma quando cammini su un filo tanto sottile sopra a un abisso cosmopolita così chic e squallido, non ti fermi a pensare. Non puoi fermarti. Vai avanti, con i piedi piegati sul filo, con l'intuito come tuo unico attrezzo da equilibrista. Da qualche tempo l'equilibrio è il mio lavoro principale. Ne sono consumato. Ma quanto è lungo il filo?"
Thanks to LUCA VALZANIA for sharing this translation!
I'd love to have a sample of the translation. Can you provide it? Please contact me.