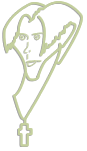 Void of Course: Poems 1994-1997
Get this book on Amazon.com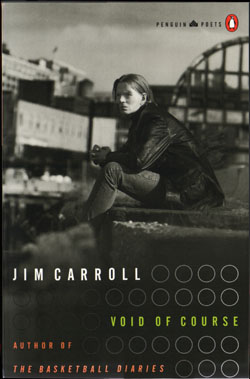 Void of Course
Published: October 1998
By: Jim Carroll
Publisher: Penguin Poets
Length: 113 pages\

Cover design: Gail Belenson
Cover photograph: Joshua Sheldon
Dedicated "to Laura," this book contains 75 new poems, most of which are titled "Poem."
Trivia:
"Void of course" is a term from astrology referring to a time when the moon is in between zodiac signs. Projects begun with the moon "void of course" will either remain unfinished or fail to produce the desired results.
Carroll was born under a void of course moon.
This is the first book Carroll wrote using a computer.
In the cover photograph, Carroll is sitting on the dock where the survivors of the Titanic landed.
Laura, to whom the book is dedicated, designed the River Jordan broadside.
Contents
8 Fragments for Kurt Cobain
Facts
The Bakery
The Child Within
Train Surfing
Goethe's Early Garden
Zeno's Law of High-Heel Shoes
Jukebox
Sick Bird
Spy
Bad Intentions
Insomnia
Radiation
While She's Gone
Lines
My Father's Last Words
Translating
What Burroughs Told Me
For Virginia
Easter Sunday
Flash Flood
Specific Instances
Ecology
Crown of Thorns
Locked Wing
The Big Ambulance
The Ocean Below
Note
A Plea
Dance Floor
Note
Long Distance
Native Moon
The Black Rose
Valentine
Franz Kline's Old Studio
Grains of Sand
1957 (Hurricane)
Film
Message Left on a Phone Machine