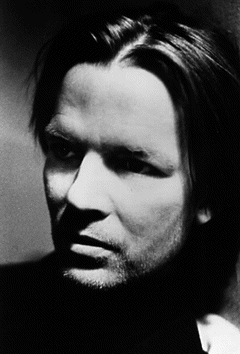 A Spoken-Word Performance by
JIM CARROLL
February 20, 1996
8:00 PM
Lenhart Ballroom
Bowling Green State University
Bowling Green, OH
Open to the Public--Free Admission
Poet/diarist/rock star/performer Jim Carroll will be reading from his work, answering questions, and signing autographs when he visits Bowling Green State University for the first time.
Carroll is the author of seven books: five collections of poetry and two diaries. He published his first book of poetry, a small pamphlet entitled Organic Trains, when he was 16 years old, and his first major collection of poetry, Living at the Movies (1973), was nominated for a Pulitzer Prize when he was 22 years old. But Carroll is most famous for his autobiographical book The Basketball Diaries (1978)--a New York Times Best-seller in May 1995--and his rock 'n' roll albums with the Jim Carroll Band. His song "People Who Died", especially, is considered a cult classic; you can even hear it playing during the opening scene of the film E.T.
Carroll is a luminary on the cultural scene. Featured on MTV, The Dennis Miller Show, Xtra, Entertainment Tonight, and other television programs, Carroll has also appeared in the films Tuff Turf (1985) and Poetry in Motion (1983), as well as in The Basketball Diaries (1995), which is based on his diaries from 1963-1966. In addition, his story "Curtis's Charm" has recently been adapted to film by Canadian director John L'Ecuyer; the film won second place at the 1995 Toronto Film Festival.
Carroll has worked and played with such celebrities as Kareem Abdul Jabbar, Allen Ginsberg, Andy Warhol, William S. Burroughs, Robert Mapplethorpe, Larry Rivers, Patti Smith, Lou Reed, the Rolling Stones, Pete Townsend, Ray Manzarek, Bob Dylan, and many others. Most recently, Carroll re-recorded his song "Catholic Boy" with Pearl Jam for The Basketball Diaries film soundtrack, and he appears on Rancid's new album . . . And Out Come the Wolves on the song "Junkie Man". He will also be featured on the forthcoming benefit album Home Alive with Pearl Jam and others.
Carroll's appearance at BGSU is sponsored by the BGSU Foundation, Cafe Shadeau, the College of Arts and Sciences, the Creative Writing program, the Cultural Events Committee, the English Department, Graduate Student Senate, LOMS Music, Madhatter Music Co., Offenhauer residence hall, Omicron Delta Kappa, Pauper's Books, Pisanello's Pizza, the Popular Culture Department, the Popular Culture Library, the Resident Student Association, the Undergraduate Student Government, University Activities and Orientation, WFAL radio, and the World Student Association.
---
If you would like more information about Jim Carroll, please visit The Jim Carroll Home Page
Feel free to email if you have questions about Carroll's perfomance at BGSU.