Support CatholicBoy.com!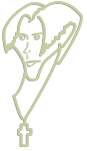 Jim Carroll Image Gallery

These are photos that may be reproduced online and in print. Photos of Jim Carroll from age 6 to the present, by professionals and fans. Historical items, artwork by Jim Carroll and other artists; Jim Carroll autographs; memorabilia and promotional posters; other unique items. Covers of books and albums, including rare items and translations, and broadsides (limited-edition posters featuring single poems). I am phasing out this page . . . These are images for which I haven't yet created pages.