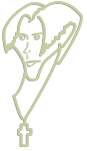 Jim Carroll Booking Information
Updated 25 August 2009
A living legend, poet/diarist/rocker Jim Carroll has mesmerized standing-room-only crowds for over twenty years with his alchemical mix of poetry, storytelling, and history, injecting the raw energy of rock 'n' roll into his spoken-word performances. From legendary venues such as San Francisco's Filmore East and New York's Bottom Line to large-scale festivals like Seattle's Bumbershoot, New York's Summer Stage, and New Mexico's Taos Poetry Circus, to down-home venues such as Ann Arbor's Blind Pig and the Y-Not II in Milwaukee. He's also a hit at college venues--from Yale, Notre Dame, and Cornell to Modesto Community College and Bowling Green State University. Please feel free to check out performance reviews (mostly written by fans) and explore all of CatholicBoy.com to learn more about him. Current press photos are available here.
Jim Carroll's spoken-word performances range from readings of his poetry, diaries, and works-in-progress to energetic raps of his song lyrics and imaginitive monologues. He is equally at home in clubs and college venues.
To book Jim Carroll for a performance . . .
If you are seriously interested in booking Jim Carroll, refer to the Contact Info page to find the appropriate contact. Also, please be sure to read the FAQ about personal appearances for answers to common questions.
When you contact Jim Carroll's representatives, you will need to provide the following information:
Location of proposed performance (where? venue name, city, and state)
Fee, transportation, and accommodations you are prepared to offer
Capacity of venue and expected ticket price (audience estimate)
Sponsoring organization (who is paying?)
Date and time of proposed performance (when?)
What kind of appearance do you want? (Just spoken-word? Any other obligations like book signings, etc.?)
Why do you wish to book Jim? (Special occasion? General interest?)